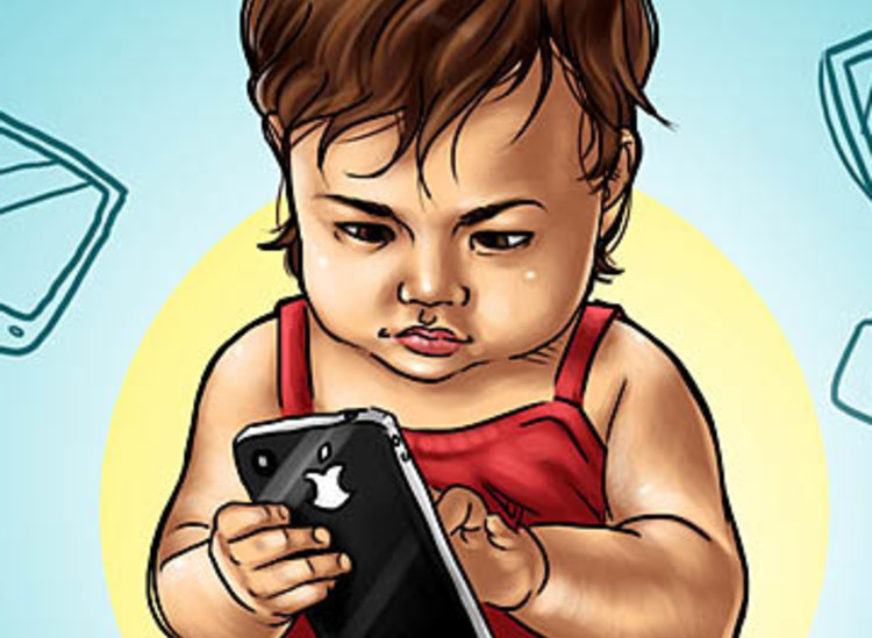 PRESCHOOLERS AND GADGETS
---
Technology and kids today is a sight you often see. A toddler holding a tablet, an infant with an iPhone in her mouth, what's new?
At one point, parents have great regard over gadgets as a way to pacify their children and as an entertaining and educational tool.But later on, it becomes an alarming sight.
Though Technology plays a vital role in our daily life. Modern day technology includes Computers, Mobile phones, Electronic games etc. As the gadgets are increasing day by day,it is leading to the technology addiction among children.
Pre-schoolers are not old enough to understand the concept of formal school education, but they know how to operate mobile phones, play computer games and surf internet.
Now a days children have become tech savvy and enjoy using different kind of gadgets. Just count the number of tech devices we have at home. Games like Action figures, puzzles, board games are no longer favourite toys of today's child. Touchscreen mobile phones have taken over all other form of games.
In general, children prefer spending hours on mobile phone instead of heading out for outdoor games.
Gadgets have taken the much cherished time and space which was meant to be spent the parents. Children are hooked on to the gadgets and they have no time for other pursuits. Parents also regularly bring new gadgets for their children in keeping with the peer pressure and giving in to the demands. Should we pamper our children with gadgets.
Researcher says, those children who spend more time on touch screens have low cognitive development and also have Attention Deficit Hyperactivity Disorder [ADHD].
Exposure of gadgets is a double edge sword .so here  are some of the advantages  and disadvantages of latest technology.
Advantages
Exposure to a wider realm of knowledge – Our children are digital natives. They know how to operate, they know how to turn these gizmos on. They have at their fingertips a veritable cornucopia of knowledge that was previously available to us only via books.
Communication is faster and better with the advent of technology. They can make more friends in the digital world through Facebook, Messenger etc. So, they are on their way of becoming global citizen.
Disadvantage
Lack of physical activity – Less physical exercise corelates with the delayed developments. Researchers say that 10 minutes of physical exercise changes the action to the brain positively.
Higher level of aggression
Lower level of attention span – They cannot concentrate on the tasks at hand.
Higher level of eyesight problem – Exposure of radiation and the constant glare of the monitors affect the eyesight of our children.
It is difficult to keep children away from Gadgets but we can reduce the amount of time they spend on touch screen or on electronic gadgets.
We should encourage them to play outdoor games with their friends. So, they learn the importance of having social balance in their lives which will benefit them in a constructive way to lead a healthier and effective life.
Thanking you
Reena Bhatnagar
Prep II Teacher
Angels Paradise Academy
---
---